Welcome!
Welcome to Connecticut Deaf Senior Citizen where you will find the information that you need to make good choices on socials, meetings, services, programs, and plans activities that enables people to participate in any center activity at Newington Senior and Disabled Center, 120 Cedar Street, Newington, CT 06011. The door is open from 9 am to 4 pm at the multi-purpose room once every Tuesday a week.
Information
New & Renew Membership
Aren't you interesting in joining a member of CDSC? Are you renewing your membership dues? Just fill out the membership form below and mail it to the address with your check.
Membership
Latest News
Announcement
Last Update: January 29, 2017
UPDATED: 2017 ASDAA Bicentennial Celebrations Schedule
ASD Bicentennial Celebration
Last Update: February 29, 2016
Thank you for signing up for updates about the American School for the Deaf's Bicentennial Anniversary celebrations!
Check Out Our Latest Bicentennial VLOG!
In this episode Barbara Cassin, class of 1975, talks about recent meetings on the 200th celebrations and updates regarding the celebration!
Important Dates!
April 22, 2017
ASD 200th Kickoff Gala
6:00-11:00pm (Cocktails 6-7pm Dinner 8pm-11pm)

April 19-22, 2017
Conference of Educational Administrators of Schools and Programs for the Deaf (CEASD) conference

June 21-25,2017
ASDAA Celebrations

June 25-27, 2017
American Society of Deaf Children Conference

July 10-12, 2017
NASND (National Association of School Nurses for Deaf Students Conference)

July 4-7, 2018
National Association of the Deaf Conference
Department of Rehabilition Services
Last Update: January 18, 2015
Department of Rehabilitation Services (DORS) has a new office location - 184 Windsor Avenue, Windsor, CT 06095 / Interpreting: 860-697-3570 Counseling: 860-697-3560.
Contact Listing
DSA Organization Achievement Award
Last Update: August 29, 2015
Basil Brackett, President is pleasured to announce the award from Deaf Seniors of America (DSA) - DSA 2013-2015 Awards:

DSA Organizational Achievement Award:

(To a selected group performing exceptional service to DSA or deaf seniors)
Connecticut Deaf Senior Citizens, Inc.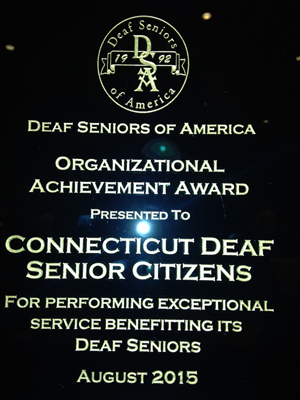 This plaque is hanging at the entrance of senior building, walk straight as it was hung on the left wall going on before the office.
DSA Opening Ceremony and Reception on Monday, August 24, 2015 at The Omni Grove Park Inn in Ashville, NC
Nancy B. Rarus, DSA President, Sue V. Pedersen, CSDC and Renwick Dayton, DSA Board Member
Lifestyle
Last Update: January 13, 2017
Obituaries
Last Update: February 3, 2017
Destinations Details
Trip Tours
Escorted Panama Canal Cruise
Last Update: January 12, 2017
Sail Fort Lauderdale to San Diego on October 24 to November 8, 2017 - 16 days / 15 nights - $2,869! See this flyer in details.
read more